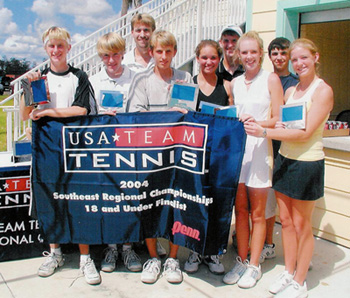 Trimp Tennis is a community of tennis pros, clubs, schools, and local businesses serving tennis players of all ages and skill levels. Trimp tennis is committed to offering its members a variety of classes, camps, and lessons that emphasize having fun, making friends, and learning the fundamentals.
Trimp Tennis serves three primary audiences:
1. Tennis Players: For the individual tennis player, Trimp Tennis offers private lessons, group clinics, tournaments, challenge ladders, and tennis racquets and apparel at as many as 11 locations throughout Charlotte. As the company continues to grow, more locations and programs will be available.
2. Tennis Clubs and School Teams: For the tennis club or school team, Trimp Tennis offers an experienced team to run all programs with consistency, hire and train new staff, and manage all finances and marketing efforts.
3. Local Businesses: For local businesses, Trimp Tennis offers partnership opportunities and access to a customer base of hundreds of men, women, and kids in the Charlotte area.
"Whenever anyone has any tennis needs, I want them to think of Trimp Tennis." That was head tennis pro John Trimp's motivation behind starting Trimp Tennis. "After 30 years teaching tennis, managing different clubs, and partnering with different businesses in the community, I wanted to put it all together into one go-to company that could cover just about every tennis need."
Three years after Trimp Tennis was officially started, John's vision has become a reality. His tennis management company now includes six clubs and five schools, over 700 players each year, and an experienced staff of teaching pros, administrators, and marketers working together to produce one high-quality, consistent system.
"The key to Trimp Tennis is that even as we expand with new locations, and new staff, we're always offering the same consistent programs and style of teaching. We're like the TGI Fridays of tennis. No matter what location you go to, you're going to get the same service and quality and choices. You know exactly what to expect."
With so many frequent changes in the tennis industry, the Trimp Tennis concept is a unique one that is quickly catching on within the Charlotte tennis community. After starting out with just one location and a handful of players, Trimp Tennis has grown into a mini tennis empire. In the past year alone, the management company has taken on 3 new clubs, 2 new schools, several strategic business partners, and over 200 more players.
And they're just getting started. With the launch of TrimpTennis.com and a comprehensive marketing initiative in place for 2007, John and his staff are set to expand Trimp Tennis throughout South Charlotte and beyond. Past that, the sky's the limit.
"I really think we can make a tremendous impact on the Charlotte tennis community," John said. "The response to what we can offer has been terrific so far, and I'm looking forward to building on it. As long as we continue to keep everyone happy and deliver a quality, consistent product, this should be a great success for a long time."